"Be one of those on whom nothing is lost." Chester Arnold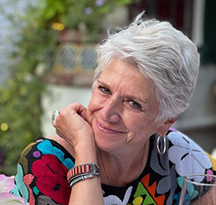 My work incorporates blended colors and brush strokes to communicate the hidden details of a given subject. I like to let the application of the paint itself render slope, direction, texture and value with the simplification of combining thick brush strokes and custom pigments to create unexpected dimension. I strive to bring out the beauty in ordinary things and to create images that work well from a distance while beckoning the viewer to take a closer look at the details.
I received a Bachelor of Fine Arts degree from the University of Puget Sound in Tacoma, Washington. Shortly thereafter I moved to Los Angeles where I built a successful career as a graphic designer/art director working in ad agencies, the record industry and a wide variety of corporate fields.
I am inspired by my ancestor, Francis Danby ARA (Associate of the Royal Academy) born in Wexford, Ireland 1793-1861. A painter of the Romantic era and a member of the Bristol School of artists of that time, his work is on view in the Tate Britain, London, Art Gallery of New South Wales, and the National Gallery of Art in Washington DC.
CONTINUING EDUCATION
Laurie Hendricks (South Pasadena, CA)
Contemporary Impressionist
Sandy Ostrau (Sea Ranch, CA)
Abstracted Landscape & Figurative Painter
California Art Club, LA – Associate Artist member
SPARC, South Pasadena: Jan. 2023
Jonathan Club Foundation, Los Angeles: Mar. 2023
Moryork, Los Angeles: May 2022, Sept. 2023
O'Hanlon Center for The Arts, Mill Valley: Aug. 2023
La Casita Del Arroyo, Pasadena: Oct. 2023